Not too long ago, someone who enjoyed fantasy asked me for a book recommendation, and immediately the Coldfire Trilogy came to mind.
These have to be one of my absolute favorite series of books.
The series seems to take place in your standard magical type of fantasy world, and I don't think I'm spoiling anything by letting you in on this, but what really happened was that mankind left earth, and ended up on the planet  Erna, where thoughts are unknowingly shaping the planet's energy, creating what we think about.
This may sound great, but all of the popular monster stories that we're told start creating the monsters that used to be fictional. The use of machinery becomes impossible, because worrying that it won't work, makes it not work. Thinking that your gun may backfire, makes it backfire.
Mankind is reduced to using only the simple tools that our minds can easily grasp, swords, axes, saws, etc.
The planet was colonized 1200 years before the stories start, and our origins have been forgotten, and mankind has just continued on with their lives. The end result is the medieval world of swords and sorcery that is the backdrop for the story.
My wife was never into reading Sci-Fi and Fantasy, but I talked her into giving these books a try. Now she's hooked and she pretty much only reads fantasy now. If you like that type of stuff, I really suggest you check them out.
What I didn't realize until I wrote this post is that there is a prequel story. It looks like at Amazon it's only on Kindle, and right now it's $1.99. The main series was released between 1991 and 1995, but this prequel was released in 2011.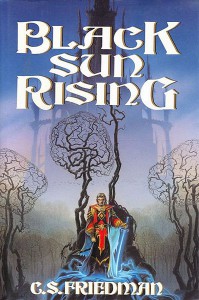 The first book is "Black Sun Rising", it's available on Amazon here in kindle format, as well as paperback and audiobook.
The second book is "When True Night Falls", available here on Amazon in the same formats.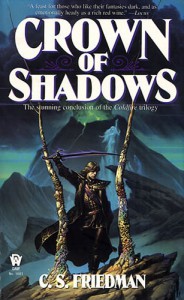 The third book is "Crown of Shadows", available here on Amazon in the same formats.
C.S. Friedman's page about the Coldfire Trilogy has some really nice summaries, and you can also read the really long Wikipedia article about the series.